Mission of Hope for the Disabled – Monrovia, Liberia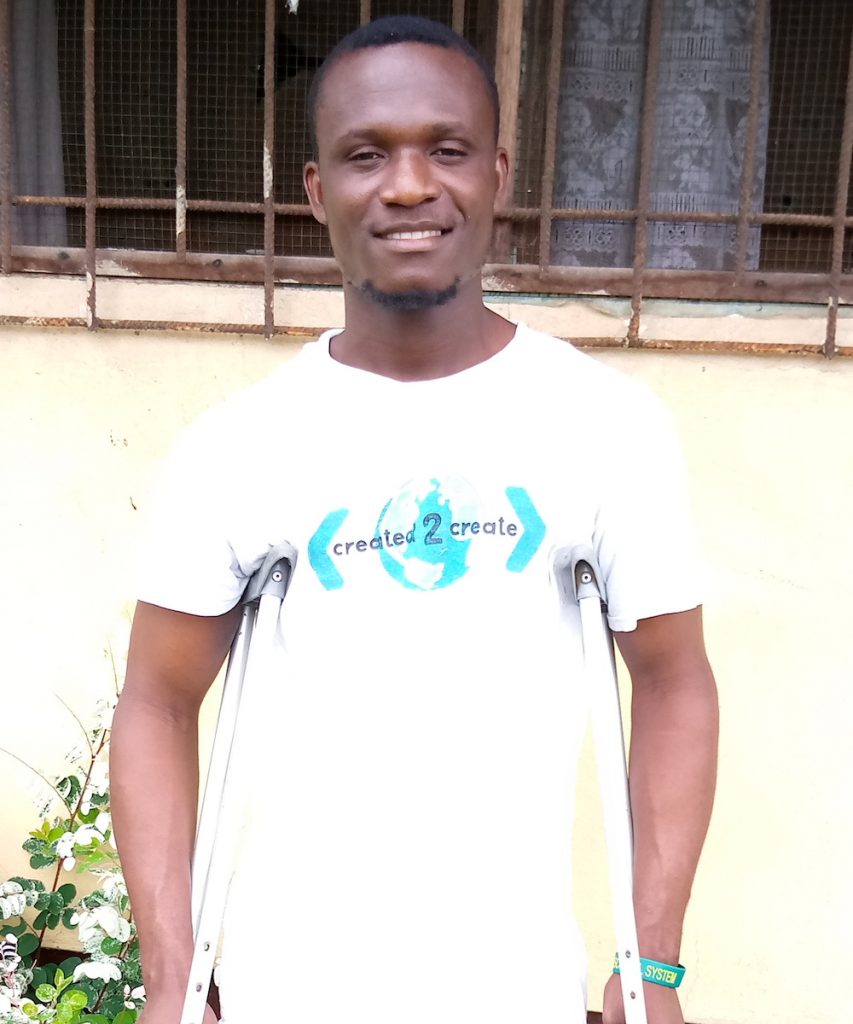 James Proud
James is attending Starz College and studying Information Technology with an emphasis in Graphic Design. He has had a passion for art and drawing all his life, and in 2015 he opened St. James GafixTec designing t-shirts for local schools and clients on his homemade screen printing press. His goal is to open a multipurpose business offering computer services and graphic design while training and employing other Mission of Hope students.
---
Daniel Kapu
Daniel is attending the Child Art Center of Liberia. He was born with amazing talent in art and architecture and is mostly self- taught, spending his life developing his skills. His goal is to use his education to start an Art Center at Mission of Hope that will inspire and train other young students from Mission of Hope and the surrounding community and make art available for sale to the public.
---
Joetta Togbah
Joetta is attending Cosmetology School to develop her eduction as a beautician. To this point she has been self-taught, but is in high demand in the community for hair braiding and makeup. She loves to put smiles on the faces of people, helping them realize that they are beautifully and wonderfully made by God. Her goal is to open her own salon and train and employ other Mission of Hope students to work there.
---
Mathare Community Outreach
Mathare Valley, Kenya
Seth Oluvuyi Luchemo
Seth is currently studying music production and saxophone performance at Five Star Music Academy. He has been an IA Artist Mentor in music for the Mathare Art Camp the last five years. He graduated from Kenya Institute Management (KIM), with a diploma in Project Management. He had been a student at LEPTA, a CBO, where he undertook a program on leadership. After graduating at KIM, Seth was promoted to become a Program Assistant at Lepta Community.
Seth plays music in Church and is also a music and worship leader at Rehema Rescue Foundation. The foundation rescues teenage girls and keeps them at their care for two years of counseling and mentorship. The music, especially the worship, helps the girls to heal.
With a team of five people, Seth has managed to start a year-round Art camp program, where they advance development in the community, by training children, 8-15 years. The children are trained on music, singing, dance, playing instruments, drawing and painting. They also began mentoring classes. The program is called Recreation Factory School of Arts (RFSA).
---
Brian Odhiambo Onyango
Brian is 21 years old, currently a student at Mt. Kenya University, Nairobi Campus. He is studying Journalism & Mass Communication, specializing on videography, animation, editing and photography.
Brian cleared high school in 2016, after which he took a course in Food Production. He then proceeded for an industrial attachment in a local hotel for 4 months. Having gained experience, he joined a group of friends who had come together to form an Outside Catering firm. They prepared meals for weddings and corporate events.
Brian recently got employed at Blue Spring Hotel, as a cook. When the hotel gets busy over the weekend, he doubles up as a waiter.
---
Cassandra Julie Atieno Odhiambo
Cassandra, 20 years old cleared high school in 2017. She lives with both parents and younger siblings. Cassandra plans to study videography at the University of Nairobi. Cassandra also loves singing, which she did so much while in the school choir.
---
Yvonne Achieng Owino Asunnah
Yvonne is 25 years old and the eighth born in a family of ten comprising 5 boys and 5 girls. She is a brilliant fashion designer and model who recently launched the Mathare Creative Foundation (MCF) and her own brand "Yvonne Asunnah Kenya" in partnership with Inverted Arts. MCF is focused on mentoring and training youth from Kariobangi Children's Home and Mathare Community Outreach in fashion design and creating fashion products and services for the local Kenyan market. She has also served as an Artist Mentor for the Mathare Art Camp for the past five years. Yvonne is taking 2019 off to focus on MCF and her brand but will return to Buru Buru Institute of Fine Arts (BIFA) to finish her degree in 2020.
---
Winstone Origi
Winstone was recently hired as the Head Art Teacher at Mathare Community Outreach and Inverted Arts supports his annual salary. He specializes in music and singing, drama and theater, has served as an Artist Mentor coordinator with Inverted Arts, served as Head Trainer for Music and Drama Festivals at MOI Forces Academy and has experience as an event organizer and project management with WhyNot Association.  He .
---
Twin Cities Scholarship, MN
Grace Johnson
Grace attends The King's College in New York City, majoring in Media, Culture and the Arts. She plans to continue her focus on visual art and branch out into videography, photography and graphic design. Her future goals include using her art to positively influence the youth in her own Minneapolis community. Some of those dreams include starting a coffee and ice cream shop where kids can go and create. She calls it a place to create, to belong, and to enjoy!
Grace has been part of Inverted Arts programs from the very beginning. As a middle schooler she participated in our Art Exploration Programs at Hope Academy, and later became a high school intern and assistant in the visual art class with Artist Mentor Sarah Nelson. She has exhibited her work in the IA Studio for the past three years of Art-a-Whirl, at our Winter Art Shows, and she has designed cards for our Christmas Card collections. In one of her first professional gigs, her design was selected as the official 2018 label for Wandering Collection Vineyard in Oyama, British Columbia! Also, check out her cool, hand-painted shoe designs at https://www.rockinsoles.com.
---
Shevon Greene
Shevon is attending Augsburg University in Minneapolis, majoring in Communication Studies and minoring in Religion and Leadership Studies. She was born in Minneapolis, attended Hope Academy since Kindergarten and has been apart of Inverted Arts programs for seven years; first as a student, then as a music intern. One of her favorite hobbies is singing, and has performed for Hope Academy and Inverted Arts multiple times before. She sings in Augsburg's A Cappella ensemble, adding two new minors onto my progress, Student Deacon and worship leader with the Campus Ministry program, and recently received an internship with Xcel Energy.
---
Dominican Republic – Santo Domingo
Adriel Charles Santos
Adriel is in his final year at Estudio Dina in Santo Domingo studying piano. He was born in the town of Bayaguana (Monte Plata) in 1992. His love for music began while watching his father play guitar, piano and accordion, and he was surrounded by musicians during his childhood years. At the age of twelve Adriel began studying piano at his church with a well-known local musician named Rodriguez. Now Adriel sings and writes songs, plays piano, guitar, bass and drums, and is learning to play the violin on his own. When he is done his program he hopes to start a music school to teach and perform.
To see past IA Scholarship recipients, CLICK HERE.