Friday May 19th, 5pm-10pm
Saturday May 20th, Noon-8pm
Sunday May 21st, Noon-5pm
INVERTED ARTS STUDIOS
77 – 13th Ave NE Suite #207
Minneapolis, MN 55413
Free parking in lot west of building
MAP
Featuring: DELPHIN STARR
Born in Bujumbura, Burundi in 1994, he moved to Minneapolis with his family in 2010. Delphin Starr Niyonkuru (aka DelStarr) was fluent in 3 languages (French, Swahili, and Kirundi), but often felt left out in the USA because he didn't speak English. DelStarr yearned for ways to communicate and a place to belong in a world that was foreign to him. He quickly learned that art was a universal language and has found different ways to use art as a form of expression and storytelling. He is a multi-talented artist: abstract, painter, photographer, graphic designer, speed painter, and dancer.
In 2014, he adopted a new form of art expression called speed painting. After seeing his role model David Garibaldi performing live on the TV, DelStarr taught himself how to speed paint. He has performed around the country sharing his talent. His concept of "Dirty Canvas," comes from the lack of affordable canvases. So, he performs on the same canvases he practices on. The philosophy behind it is that no matter how bad, ugly, or dirty a situation is, it only takes one brush stroke after another to change it into a masterpiece; meaning you have to put in work, step by step, to get to where you want to get. DelStarr needs only minutes to transform a dirty canvas into an amazing work of art. Sometimes he does so while dancing or in collaboration with other artistic expressions.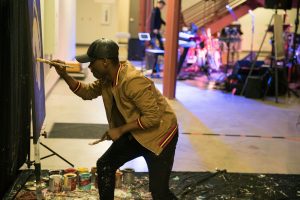 As an undergraduate student at the University of Minnesota-Duluth, DelStarr continues to create, paint, and perform. He's double majoring in computer engineering and graphic design and marketing. DelStarr has now made the journey from the kid who couldn't speak English to an artist who's built an art and design brand (DelStarr Design) where he combines his skills and passions to express himself. As a speed painter, DelStarr has been frequently recognized as an upcoming original young artist, a trendsetter, and a motivational/ influential artist of the modern generation.
His artworks can be found in MN (Minneapolis, St Paul, Duluth, Mankato, St Cloud, Alexandria, Collegeville), around the country (North Dakota, Ohio, Iowa, Maine, Washington DC, Maryland, and, Virginia, Wisconsin), and around the world (France, Belgium, Czech Republic, England, Germany, China, Thailand, Taiwan, Australia, Mexico, Colombia, Burundi, Kenya, Rwanda, Zambia, South Africa, Congo, Ethiopia, Oromia, Somali Land). You can find DelStarr's work on Instagram (DelStarr_arts) and Facebook (DelStarr Arts). His website is still under construction. DelStarr has shown the world that art is a language that doesn't need words to be understood, so he uses it as a tool to break barriers and build relationships.
Art-a-Whirl Speed Painting performances:
Saturday May 20th @ 1pm, 5pm and 7pm
Sunday May 21st @ 3pm