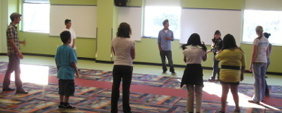 Inverted Arts Camp is underway at the Urban Ventures Learning Lab at the Colin Powell Youth Leadership Center in South Minneapolis. Inverted Arts Camp is a collaborative, nine-session creative journey that is designed to inspire and equip students to flip their world upside-down through the arts.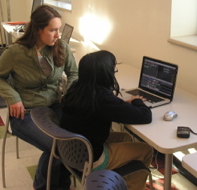 The Art Camp is being offered on Thursday afternoons October 6 through December 15, from 3:30pm – 5:30pm for middle school students in the U.V. Learning Lab program. The Camp is led by professional Artist Mentors who provide training, tools and opportunities for students to create original works of art in one of three artistic disciplines: photography, theater or video. The Art Camp will conclude with a Community Art Showcase event on Tuesday, December 20 when the students present and perform their artistic creations. Click on the Artist Mentor's name below to find out who they are and what they do.
Becca Oehrig
: photography
Students explore the world of digital photography, styles and techniques, camera operation and editing, and create an independent photo exhibit around a theme.
Jeremiah Gamble: theater
Students discover the world of theater: improvisation, acting, script-writing, character development; and create a short performance piece in collaboration with a team.
Luke Trouten: video
Students explore the world of digital video production, styles and techniques, learning about video camera operation and editing, and then create, shoot and edit a short video project in imovie.