We're four weeks into an eight-week Inverted Arts Exploration program at Mary's Place – a transitional shelter for over 500 people (396 children, 150 adults in 92 family apartments) – in downtown Minneapolis. What an incredible honor it is for us to be involved in the lives of these amazing students! On Thursdays, Artist Mentor Sarah Albinson leads a class with the Big Sisters/Little Sisters group teaching them how to tell their stories through visual arts. On Fridays, Artist Mentor Mark Collier leads a video production class with the young men age 12-18.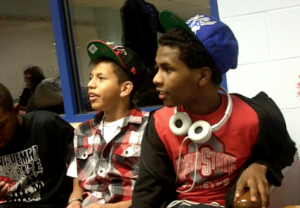 It's been an incredible journey so far as we work with these extremely talented and creative youth who have been through so many difficult challenges in life. Some grew up in Refugee Camps in Kenya, others have experienced the loss of family and loved ones. All of them have been impacted in some way by a broken world around them. We are there to love them, listen to them, and remind them that they each have value and worth because they are made in God's image. They have a voice and a perspective that the world needs to hear.
Ismail is a 15 year old Somali refugee who arrived in Minneapolis last fall. His father was killed for teaching english in Somalia when he was very young. His younger sister suffers with cerebral palsy. He's been through so much already in his short life, but he is filled with curiosity, talent and is a born leader. His nickname around Mary's Place is "smiley" and he's always staying late after the sessions to learn a little more, try out something new, or help put the equipment away. He is directing his video team in creating trailers, Â still motion videos, and next week they are excited to interview other residents at Mary's Place. I see so much creative energy and potential in "smiley;" and that's just one of the stories.
At the end of the program all the students will present their creative accomplishments to the rest of their families and Mary's Place residents. I know it will be a powerful and inspiring time together!
It's been a great honor to also work with the fantastic staff at Mary's Place. Rob, Chris and Charlotte have been so fun to work with and we are inspired by their commitment to serve these students and their families for so many years. And the Founder and Director of it all is Mary Jo Copeland. On February 15 she will receive the Presidential Medal from President Obama in a White House Ceremony. If you haven't read this ARTICLE in the Minneapolis Star Tribune about her and seen the video, be sure to check it out. She is a remarkable lady whose life challenges all of us to love and serve others, especially those in need!