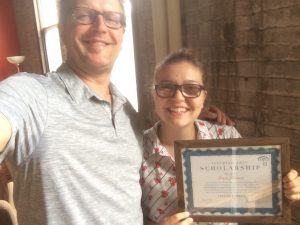 Inverted Arts is thrilled to announce that Grace Johnson is our 2018 Twin Cities Scholarship Recipient! Congratulations Grace!
Grace has been part of Inverted Arts programs from the very beginning. As a middle schooler she participated in our Art Exploration Programs at Hope Academy, and later became a high school intern and assistant in the visual art class with Artist Mentor Sarah Nelson. She has exhibited her work in the IA Studio for the past three years of Art-a-Whirl, at our Winter Art Shows, and she has designed cards for our Christmas Card collections. In one of her first professional gigs, her design was selected as the official 2018 label for Wandering Collection Vineyard in Oyama, British Columbia! Also, check out her cool, hand-painted shoe designs at https://www.rockinsoles.com.
Grace will attend The King's College in New York City this fall, majoring in Media, Culture and the Arts. She plans to continue her focus on visual art and branch out into videography, photography and graphic design. Her future
goals include using her art to positively influence the youth in her own Minneapolis community. Some of those dreams include starting a coffee and ice cream shop where kids can go and create. She calls it a place to create, to belong, and to enjoy!
Here at Inverted Arts, we're honored to be part of Grace's creative adventures and we can't wait to see how things unfold!
Bio
"Grace Johnson is a recent high school graduate​ from Hope Academy in Minneapolis, MN​ who is developing her love of sketching, painting and designing. Her influences range from E.H. Shepard to Vincent van Gogh to her personal art mentor and friend Sarah Nelson. Grace has been involved with every artistic opportunity afforded to her including painting shoes, designing cards, and curating small art shows. She describes her art as taking real life objects or situations and adding an element of fantasy. Through her art she hopes viewers begin to see extraordinary glimpses in ordinary day-to-day life.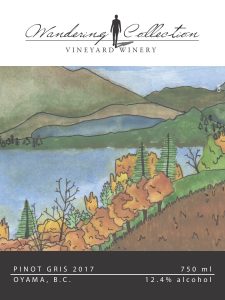 Wandering Collection Vineyard
Oyama, British Columbia, Canada
Wandering Collection Vineyard's 2018 label features the beautiful the work of Grace Johnson. In the summer of 2017, Wandering Collection asked Inverted Arts to run a label-design competition with several of it's visual art students. Several youth submitted label art based on information provided to them about the vineyard, its location, and the "feel" of the place. Grace Johnson's design was selected for the 2018 label. 
Canvas – the power of creativity
Grace Johnson
Canvas – Grace from Inverted Arts on Vimeo.