By: Travis and Sarah Scharn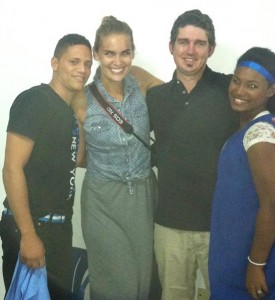 Though it was really different from previous trips, our annual Dominican Republic Art Camp was yet another amazing experience.  The last couple of years we've hosted the Art Camp in Hato Mayor, a smaller town around a 2-hour car ride from the capital city of Santo Domingo.  This year, we were stationed in Santo Domingo.  Neftali, Jose Armando and Esteban, three youth leaders from Hato Mayor, came for the week to stay with us and to help us lead the camp.  They did an amazing job.  It was great to see them accept the challenge of leading over 35 local youth in creating 2 original short films.
Keeping busy was not an issue for our team of 4 artists, 3 student leaders and 2 hosts.  Our mornings started out with breakfast, devotionals, leadership training and laying out our plan for the Art Camp that afternoon.  All afternoon was filled with leading the youth in writing, acting, directing, filming and producing 2 original short films.  After dinner we spent time recapping the day and editing the videos that were shot that afternoon.  The week was capped off by an amazing showcase where the students invited their friends and family to view the films they had created.  It was a rowdy time of celebrating their creativity complete with popcorn and soda.
In typical fashion, we've already started dreaming and planning next year's trip to the Dominican Republic, even though we're not even fully recovered from this trip.  The students are so talented and creative and the leaders did an amazing job this year stepping up into their roles.  A special thanks to our hosts Kristin and Joselo Santana – Wolford and local churches Mundo de Fe and Jovenes Educando en las Verdad.