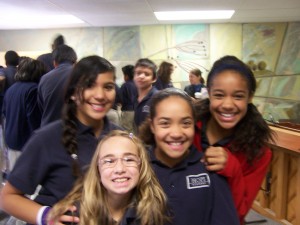 Today was our first on-site recording session with the Hope Academy choir and the students sang two songs that will be part of the "Sounds of Hope" sampler CD. It was the first recording experience for most of them and they came in just a little nervous, but with a lot of enthusiasm.  Choir Director Ebony Ramquist led them through the Tim Hughes song "Here I am to Worship" and the Chris Tomlin song "Our God", getting some good tracks in just 2-3 takes. Then our producer/engineer Bruce Balgaard did a Q&A about all things related to music and recording and the students had so many great questions that they didn't want to stop.
Mark shared about the possibility of an Inverted Arts Camp next summer and they all got excited just thinking about the possibilities. There is so much talent and creative potential just waiting to be heard and seen. We're thankful for the staff and administration, and for the incredible job Hope Academy is doing to bring beauty and hope to the city of Minneapolis!
Click on the picture below to see a video clip.