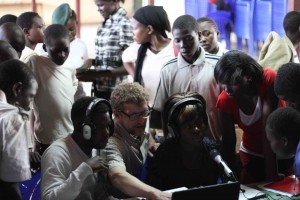 As part of our growing partnership with Mathare Community Outreach (MCO) we are excited to tell you about several new opportunities to invest in Mathare students.
Scholarship Fund
1. We are establishing an IA Scholarship Fund for two students who have shown artistic talent and ability, are continuing to develop their talents, have completed Form Four, and are pursuing a university level education. These two students will be selected by MCO staff and administration.
The initial amount of this scholarship fund will be:
$1,500/year
Teacher Salary Fund
2. We are establishing a Teacher Salary Fund to pay MCO Art Teacher and IA Artist Mentor Henry Aol. This will allow art classes to continue year-round at MCO.
$2,500/year
Art Camp and Supplies Fund
3. This fund will pay for the annual Art Camp which includes a daily hot lunch, assistant teacher stipends, t-shirts, and art supplies/equipment that will be used throughout the year.
$2,000/year
Total Proposed MCO Investment:
$6,000/year
This is your official invitation to partner in this investment. Write "Mathare" in the memo section and send checks payable to:
Inverted Arts
77 13th Ave NE Suite #207
Minneapolis, MN 55413
OR donate online by Paypal or credit card:Â HERE