Preparation for the Inverted Arts Camp at Hope Academy is under-way! For the last two weeks the Artist Mentors have been working with eight Hope interns in grades 11-12 as part of the HopeWORKS program. Each Artist Mentor has two interns who have been working on-site at the Artist's studio or workplace, learning more about their chosen artistic discipline and helping the Artist Mentor prepare class curriculum and activities for the upcoming Art Camp which begins Monday morning June 27 for sixty 6th-9th graders. The Hope interns have been working hard, gaining valuable experience in the creative workplace, and will be classroom assistants once the Art Camp begins.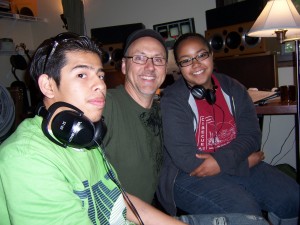 Artist Mentor Bruce Balgaard – working with Giovanni and Auryanna, teaching them how to compose, perform and record music tracks in GarageBand.
Artist Mentor Jeff Johnson – working with Vivanco and Ashley teaching them how to move from creative concept to shooting and editing video in imovie.
Artist Mentors Corey and Betsy Mills – working with Alyssa and Michael teaching them writing, improvisation and acting through theater and dance
Artist Mentor Sarah Albinson – working with Anna and Iliana and teaching them how to tell their own stories through the visual arts.
.