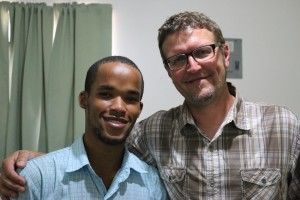 We are excited to introduce you to our very first scholarship recipient in the Dominican Republic, Adriel Charles Santos. Adriel is a talented song-writer and musician who has worked with us in the past, and recently served as an Artist Mentor during our 2015 Video Art Camp at Mundo De Fe in Santo Domingo. We are excited about what's ahead for Adriel as he heads to music school this fall!
Adriel's Story
Adriel Charles Santos is a Dominican boy, born in the town of Bayaguana (Monte Plata) on February 27, 1992. His father Joaquin Charles (now deceased) and mother Ysabel Cristina have two other sons, Michael and Azarias, and two daughters, Faustina and Miguelina. Adriel graduated from Liceo Nocturno Sebastian Lemba high school in San Antonio de Guerra where Adriel still resides.
His love for music began while watching his father play guitar, piano and accordion, and he was surrounded by musicians during his childhood years. At the age of twelve Adriel began studying piano at his church with a well-known local musician named Rodriguez who he still keeps in touch with. He was able to learn the piano quickly since he worked taking care of the church for eleven years and had much time to practice.
Now Adriel sings and writes songs, plays piano, guitar, bass and drums, and is learning to play the violin on his own. He also works as an assistant for the Palm Distribution Center.
Adriel is excited to be heading to Estudio Dina in Santo Domingo in the fall of 2015 to study piano.