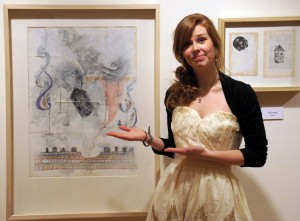 Inverted Arts is excited to announce the hiring of Sarah Albinson as our first ever employee! Sarah has accepted a part-time position as Lead Artist Mentor – Visual Arts. Sarah is a graduate of Taylor University in Indiana with a BA in Studio Art with concentrations in art history, drawing, painting and printmaking. Sarah brings creative talent, passion, enthusiasm, experience and a deep desire to serve disadvantaged young people around the world by helping them explore their own creative potential. Sarah's duties will include leadership of  two local and two international projects each year, as well as developing our visual art curriculum, participating in current projects (the IA Exploration program at Hope Academy, and the Art Camp in the Dominican Republic at the end of July), as well as other Partner/Artist Mentor networking, marketing and fundraising efforts. We are so glad to have Sarah on our team and her unique gifts, talents and dreams make us a much stronger organization!
Be sure to check out some of her amazing work below.
[nggallery id=16]
This from Sarah:
I am so excited to be joining the staff at Inverted Arts! Art and working with international and developing communities has been on my heart as long as I can remember. I grew up as a missionary kid, where my parents worked among refugees in Europe. Growing up in that environment, I have developed an intense passion for working with people globally who are marginalized.
I had the pleasure of working with Inverted last summer through the Hope Academy Art Camp. It was an incredible experience. When Mark approached me about an actual staff position this spring, I was ecstatic. The only thing I could think when he was explaining the job to me was that my heart beat was being verbalized. In other words: it is a dream come true. My background in art could not go to a more exciting or better use than empowering people globally through the creation of beauty.
I view art as something more than a product that is meant to be aesthetically pleasing. I have come to know the act and result itself, to be something that gives a person and a community, the opportunity to delve deeply into something far greater than oneself. I think that there is a richness and a connection to the ultimate Creator that is unique within art, and I cannot wait to continue to explore that with students and partners in Inverted Arts.
God is doing some amazing and beautiful things in the world through art, I can't wait to be a part of it.
Sarah Albinson 
Send Sarah a congratulations email: sarah.albinson@invertedarts.org.