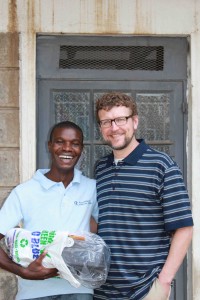 Update 
During our recent 2013 Art Camp April 22-26 in the Mathare Valley, we were excited to present Kevin with a new photo printer on behalf of Inverted Arts for his work with the children in Mathare. Keep up the great work Kevin! Â Read the full story below…
By Katie Trouten
When I went to the Mathare Valley slum in 2012, I (Katie – middle of photo) thought I was there the teach the kids photography. Kevin (Kevin – far right in photo) was the teacher from the school that was assigned to my class. He was amazing. He was so enthusiastic, and helped calm my nerves when I first stood in front of the room of Kenyan students. I had such a wonderful time teaching the students in Mathare. But part of me felt like what I was doing was pointless – I was teaching kids how to take pictures, which they were great at, but then I was going to leave, and take the cameras with me.
It never crossed my mind that Kevin might learn something in the class too. That he just might be able to use his enthusiasm and relationships to continue to teach art to the kids in Mathare. Earlier this year, I saw a post on Facebook that Kevin was going to be teaching a journalism and photography class. It was so fun to see that what we had done in Mathare wasn't done when we left. I sent him a message that I was so excited he was teaching the class, and that if he needed anything to let me know. He responded and said that he was using my lesson plans to teach the classes. I am truly honored. My goal in Mathare was to help the students see the world in a different way – to see hope and beauty. Who knew that a small town girl from Minnesota could go to Africa to teach one class for one week, and end up giving some tools to a Kenyan living in the slum who will teach students that they can see the world differently for years to come.
Need: If you have any digital cameras to donate to Mathare email us at info@invertedarts.org.